The Cannabis Perpetual Harvest – Autoflower vs Photoperiod
Cannabis Perpetual Harvest – Autoflower vs Photoperiod
The perpetual harvest is a technique for having cannabis plants growing in different stages.  While one set of plants are flowering, another set of plants is in vegetative. In theory, depending on the length of vegetation for the photo cannabis plants, you could even have a third set of plants in the germination/seedling phase.
With autoflower cannabis plants, the autoflower perpetual harvest is a simple matter.  Plant the first set of plants and let them grow 5 – 6 weeks. Then plant another set of plants.  Repeat this process every 5-6 weeks and you will harvest every 5-6 weeks. This is extremely advantageous in states or countries where the law is based on the number of flowering plants or plants in flowering stage.  In these instances, perpetual harvest could allow you to grow 2x – 3x the "legal" limit. The law is measuring the number of plants in flower, not the number of plants. Thus having plants in 2 or 3 stages, while only 1 set is flowering allows the grower to multiply the yearly harvest.
The reason it is so simple with autoflowering cannabis plants is that autoflower plants flower via an internal timer, and not because of the change in the amount of light as a photo cannabis plant would.  Whether an autoflower  plant gets 12, 16, 20, or 24 hours of light each day does not affect when it will flower or when it will die.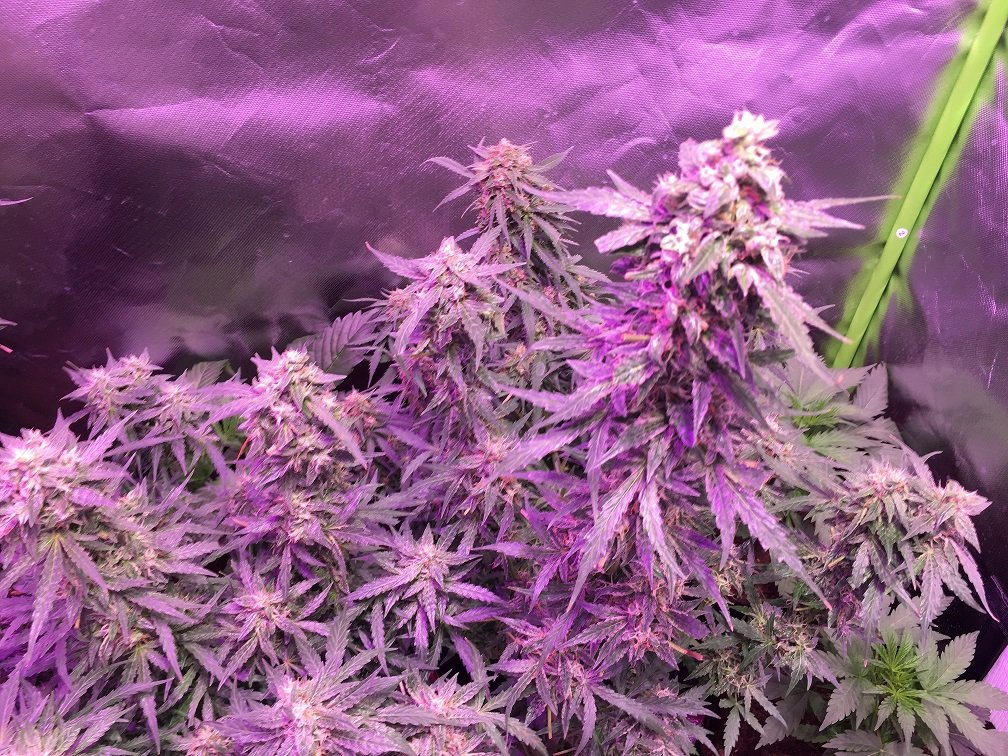 So indoor or outdoor, the plant has a point where it will begin to flower no matter how much light it gets each day.  What the amount of light will affect is the size, yield and health of the plant. Autoflowering cannabis plants can produce with as little as 12 hours of light each day, but they thrive indoors when they get around 20 hours of light each day.  Outdoors, long 14-18 hours days produce the best autoflower plants.
To set up a perpetual harvest with photoperiod cannabis plants, you need two tents.  You would have a seedling – vegetative tent running 18 – 20 hours of light, and a second tent for flowering where the light is 12 on 12 off.  The flowering tent cannot receive any light during the dark hours so you should not place the tents near each other.
If growing both autoflowering and photo cannabis plants, you could stick them all into one tent, and  run it at 18/6 or 20/4 for the first 75 days. This would allow a typical autoflower to grow to harvest while keeping the photoperiod plants in vegetative the entire time.  If the photo plants look big enough, switch the tent to 12/12 for the 8-12 weeks of flowering. If the plants are not the size you want, you can stick in another set of autoflowers and continue to run the tent at 18/6 or 20/4, the photo plant will stay in vegetative as long as it is getting more than 12 hours of light.
The ability to control the photoperiod cannabis plant switch over from vegetative to flowering by adjusting the light schedule allows for one additional technique, which is maintaining a photoperiod plant in vegetative state for cloning.  You can keep a photo plant inside a tent with autoflowers and it will never switch to flowering. So you can take clones of this plant to grow outside while housing the mother plant inside with autoflowers growing under 18/6 or 20/4.
Now you truly have a perpetual harvest. Each year you can take clones from the photo plant and plant them outside, while maintaining an indoor garden for the autoflowers.